map showing general location of the traverse from route 80 in the north down to route 50 in the south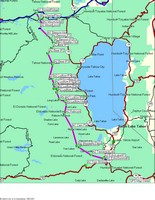 This wanna-be world-class ski-mountaineering traverse is a journey along the spine of the Sierras directly west of Lake Tahoe. Winding almost 60 miles through peaks and forest, the route connects I-80 on the North side of the Lake with I-50 on the South. There are no roads for the entire route, apart for Donner Pass Road in the first couple miles (where the Donner Party spent the winter of 1846 under 20 feet of snow, just miles from the western slope and the descent towards the Pacific Ocean and safety).
Starting at Boreal Ski resort off of interstate 80, the route crosses Donner Pass Road and then heads south, roughly following the Pacific Crest trail along the western slope of the Sierras. The traverse included three hut stays (Benson, Bradley and Ludlow), and one snow camp. The route ends at Echo Summit.
Google Earth Tour
A bird's-eye tour of the traverse. Copy this kmz file to your disk then "file" "open" and the file on your disk. Best to turn off lat/long grid ("View" unclick "Grid") and most importantly set Elevation Exageration to 3 (under "Tools - Options"). Then highlight the link/file in My Places.