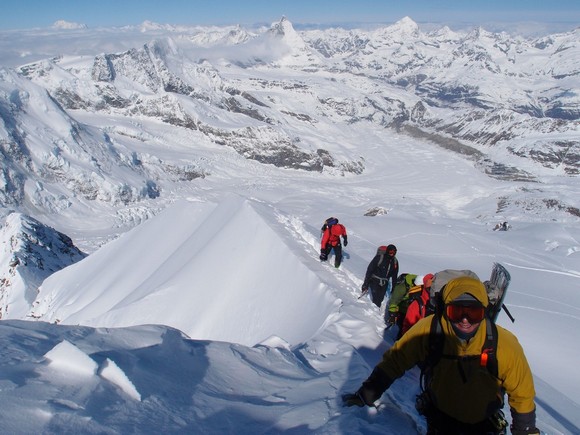 climbing Monte Rosa, with the Matterhorn, Mont Blanc visible in the background
Another ski adventure for Tom, Robin, John, Lino, and Mark, this time back in Switzerland. You thought we didn't learn from our first trip to the Bernese Oberland? Well, we thought we'd try it again. And we got fog, snow, cold - full-on bad conditions once again. I think we'll pass on any tour with "Bernese" in the name.
Sunday, 15 April - Arrived early afternoon at the Diableret ski area after spending Saturday night in Kandersteg. The plan was to tour from Diableret east to Kandersteg - with nights at the Gelten Hut, the Wildhorn Hut, the Wildstrubel Hut, the Lammeren Hut, and finally out to Kandersteg.
We climbed the Diableret (3209m - easy hike) Sunday afternoon but then had a near-disaster making it back to the hut. Fog and dicey snow-slopes made the return treacherous. Without GPS to guide us we might have spent the night out. As it was we made it back to the hut about 8, to a round scolding from the hut-master.
Monday, 16 April - There was some clearing and we took the cable-car up to the top. But then sense prevailed and we returned to the hut. We had reports of bad snow conditions on our route, no good bail options, and obvious fog along the route. Another night at the Diableret hut. Decided to go to Zermatt.
Tuesday, 17 April - Skied down from the hut. Good conditions (although getting warm) with beautiful snow. Caught the bus mid-afternoon, with a long train ride through Gstaad, Visp, to Zermatt.
Wednesday, 18 April - Ski on-resort at Zermatt. Fun, but on resort! We made plans to try for Monte Rosa (Dufourspitze) on Saturday.
Thursday, 19 April - Skin up (on resort) to the Refugio Guide del Cervino on the Italian side (3480m). Spent the afternoon eating steak, drinking beer, playing bridge, and watching the Italian physiology researchers doing some experriments.
Friday, 20 April - Thanfully, a clear day. Ski down to the Gorner Glacier and then to the Monte Rosa hut. John, Lino, Robin took a lap or two, Mark and I headed for the hut directly. The rosti mit speck was spectacular. The slack-lining was fun.
Saturday, 21 April - Off at 5:30 for the Monte Rosa (Dufourspitze, 4634m). A long skin, we made it to the col about 400m below the summit about 11. Our team was in the lead for most of the morning, having to break trail. We started up the knife-ridge but had to turn back about 200m vertical below the summit - unconsolidated snow made the route too dangerous.
So back to the hut, rosti, and down and out to Zermatt